Face-Off: Kia Telluride vs. Toyota Highlander
On paper these two midsized three-row family haulers are similar, but on the road it's a different story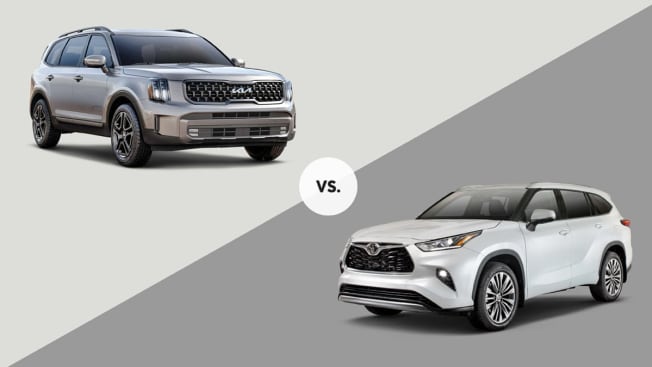 By Jon Linkov
Since it arrived in North America in early 2001, the Toyota Highlander has been an incredibly popular SUV, both with Consumer Reports' members and the general public.
It has also been a strong performer in CR's testing, ranking among the top-scoring models and capturing the midsized SUV Top Pick award an impressive 10 times since it was first eligible in 2002.
But in recent years, a number of competitors have caught up to—and surpassed—the Highlander, dethroning it from both the top of CR's ratings charts and the coveted Top Pick status.
One of those is the Kia Telluride, a no-compromises three-row SUV that debuted for the 2020 model year with a V6 engine, front- or all-wheel drive, and seating for up to eight passengers. That same year Toyota introduced a redesigned Highlander with similar attributes. But Toyota also offers a four-cylinder hybrid version, something Kia can't match. 
Both SUVs received updates for 2023. While the Kia's were mainly cosmetic, the regular Highlander received a new 2.4-liter turbocharged four-cylinder engine, which replaced the smooth V6.
These two SUVs are similar in many ways, including size, weight, and cargo capacity, and both include a number of active safety systems as standard equipment.
But there are differences between them, too, especially since their road test and Overall Scores differ significantly. To unpack these differences, we take an in-depth look at these SUVs, compare how they fare in CR's testing, and determine which one is the clear-cut winner in our metrics . . . and which one is right for you.
We also note which advanced safety equipment—including automatic emergency braking (AEB) with pedestrian detection, AEB that works at highway speeds, blind spot warning (BSW), and rear cross traffic warning (RCTW)—comes as standard or optional.
If you're a CR member, this article and the list below are already available to you. But if you haven't signed up, click below and become a member to access this list and all our exclusive ratings and reviews for each vehicle we buy and test.
Joining also gives you full access to exclusive ratings for the other products our experts evaluate in several categories, including electronics and home appliances.
Sign up for CR's Cars email newsletter to be notified when we post our latest road tests.
Kia Telluride
The Case for It
When it came time to make a true midsized three-row SUV, Kia did its homework. The Kia Telluride is a very well-thought-out SUV, and it put other midsized three-row SUVs on notice as soon as it debuted. It's a popular vehicle with Consumer Reports members, and sales remain strong. Kia has given the Telluride a freshening for the 2023 model year, but aside from two off-road-oriented trims and a 12.3-inch infotainment screen, the changes are mostly cosmetic.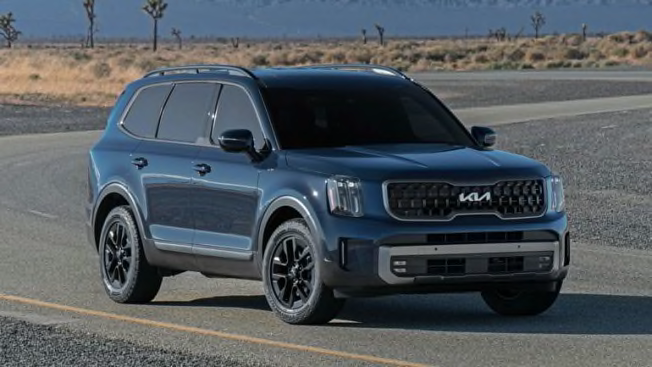 2023 Kia Telluride
Photo: Kia
Its 3.8-liter V6 engine is smooth and quickly delivers power when the driver asks for it, such as when merging at the end of a highway on-ramp or passing a slower vehicle in traffic.
The Kia's engine is paired with a slick eight-speed automatic that downshifts willingly to the driver's right foot commands. We got 21 mpg overall in our tests, which places the Telluride just 1 mpg behind the Highlander.
This powertrain gives the Telluride a tiny performance edge, making it about a half-second quicker than the nonhybrid Highlander in the 0-to-60-mph and quarter-mile acceleration tests, though it can scoot away from the hybrid version with greater ease.
But the Kia is a cut above when it comes to scrubbing off all that speed. It performed better in both our dry- and wet-braking evaluations, stopping 6 and 10 feet shorter, respectively, than the regular Highlander.
The Kia did very well in our avoidance maneuver, where we simulate having to swerve to avoid an object in the road. The Telluride's well-calibrated electronic stability control helped it post an impressive 53.5 mph in our test, a touch better than the Highlander's speed of 52.
The ride is quite comfortable, thanks to a suspension that does a very good job absorbing most bumps and road ruts. Uneven pavement can elicit some side-to-side motions, but it doesn't compromise comfort very much.
The Kia's standard low-beam halogen headlights do an excellent job of lighting the road ahead. While the high-beam lights send light farther down the road, they don't reach quite as far as the high beams on most vehicles. Still, overall performance is better than the Highlander's.
Both the Kia and Toyota are super-easy to get into and out of. Though they have similar ratings for front- and rear-seat comfort, the Kia does offer slightly more space—2 inches more headroom, an inch more legroom, and nearly 4 inches more front shoulder room. They also have similar third-row seats. Both are best for kids, though the boxier Telluride offers more shoulder room.
However, it's easier to get into the Telluride's third-row seat. Getting back there (or getting out when sitting in the back) entails pushing a single button, which flips the second-row seat out of the way. The resulting path is narrow but manageable, even for adults.
The Telluride's interior is much nicer than the Highlander's—and almost every other nonluxury midsized SUV's. The EX trim we tested has a near-luxury appearance, with plenty of soft-touch surfaces at just the proper locations where hands and arms come to rest.
Small things, such as sturdy door latches and grab handles, the lined glove box, and the high-quality satin-finished trim throughout, add to the upmarket appearance. Plus, it's incredibly quiet inside, better than most competitors. Okay, there's one complaint: The imitation wood isn't going to trick anyone into thinking it's the real thing.
We like the Kia's controls, which are easy to read and simple to use, and the traditional gear selector is a bonus. The infotainment system has a big touchscreen and responds quickly to inputs, and it has standard Android Auto and Apple CarPlay compatibility. The new, larger infotainment screen on the freshened Telluride retains knobs for volume and tuning, which we appreciate.
A slick feature: USB outlets set into the sides of the front seatbacks. They're up high and easy for second-row passengers to reach. Other manufacturers have since copied this smart idea.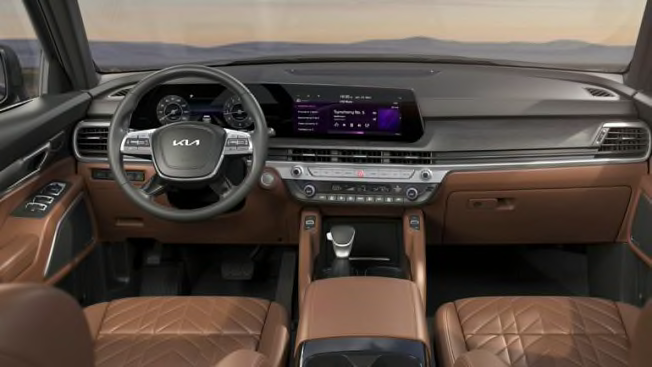 2023 Kia Telluride interior
Photo: Kia
The Kia's 47.5 cubic feet of usable cargo space is better than the Highlander's, thanks to a big opening that allows larger items to fit in. (Read how we measure cargo space.) 
Both the Kia and Toyota come with a number of standard active safety systems, including AEB with pedestrian detection and AEB highway. But Kia ups the ante by including BSW and RCTW standard on all trims.
Finally, the Telluride's warranty coverage is also superior. The basic bumper-to-bumper warranty is the first five years of ownership or up to 60,000 miles of use, whichever comes first. And the powertrain warranty is the first 10 years of ownership or up to 100,000 miles of use, whichever comes first, though only for the first owner; if you buy your Telluride as a used model the remaining powertrain warranty doesn't carry over. Roadside aid coverage is also better: five years or 60,000 miles.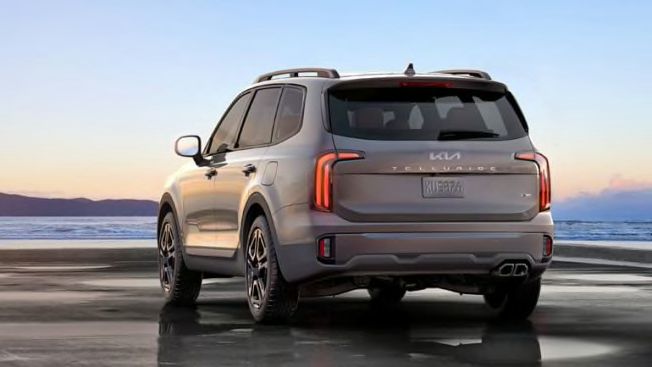 2023 Kia Telluride
Photo: Kia
The Case Against It
As we've noted in other comparisons, the Telluride's score of 92 in our road tests shows that it doesn't have many faults. Still, it isn't without shortcomings, and there are several areas where the Highlander performs better or has a superior feature.
Neither one of these SUVs is going to be anointed a driving enthusiast's companion. While the Kia has competent handling, its pronounced body lean erodes driver confidence and gives the SUV a lumbering feel when driving around corners. 
As nice as the cabin is, there are a few places where Kia obviously saved money. The glove box and under-the-armrest storage bin are made of hard, unlined plastic, and the glossy plastic surfaces around the center console don't feel very solid.
Our drivers who sit farther back from the steering wheel commented that it's a long reach to use the touchscreen. And the gray buttons on the center console below the screen have light-colored text, which can make them challenging to read in full sunlight.
We aren't fans of the various beeps and vibrations that are part of the lane departure warning system. Unfortunately, it isn't possible to turn it off without also deactivating lane keeping assistance.
Toyota Highlander
The Case for It
The fourth-generation Highlander is much more of an evolutionary redesign rather than a revolutionary one. It looks much like its predecessor, and drives and feels very familiar as well. But some incremental changes and improvements continue to make it a smart choice for families.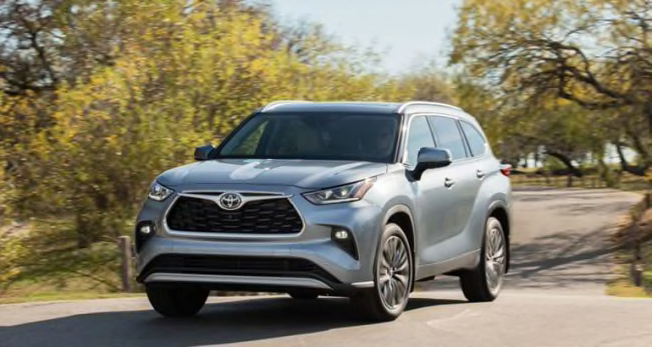 Toyota Highlander
Photo: Toyota
Toyota's winning combination of a lively V6 engine and responsive eight-speed automatic makes the Highlander not only quick in our acceleration evaluations but also frugal—particularly for a V6 engine. Its 22 mpg overall matches that of the Mazda CX-9 and Subaru Ascent (both have a turbo four-cylinder).
Want even better mileage? The Highlander Hybrid, which uses a four-cylinder engine and an electric motor, got an astounding 35 mpg overall in our tests—with all-wheel drive. That's better than every nonhybrid compact SUV.
Of course, buyers who want better fuel economy can opt for the Highlander Hybrid, which gets a stellar 35 mpg overall, is almost as quick, and can propel itself on electric power at low speeds.
We like how well the Highlander absorbs and softens the impact from rough road surfaces, and the overall ride quality is compliant and controlled. It's on a par with the Telluride. 
Both versions of the Highlander are quiet but not up to the librarylike interior of the Telluride. The turbocharged four-cylinder engine has a gritty sound under even moderate acceleration. The Hybrid version is better, getting noisy only under hard acceleration. Both do a good job of keeping road noises subdued.
The regular Highlander performed very well in our braking tests. While it can't match the Telluride, we measured short stops on both dry and wet pavement.
Getting into and out of the Highlander is as easy as in the Telluride. The doorsill is low and narrow, the seats are at the perfect height to slide onto, and the door openings are wide. It's even easier to get into the second row, thanks to the more generous openings and wide path.
The Highlander scores very similarly to the Telluride in our seat comfort evaluations. Measurements are marginally smaller in some areas—an inch less legroom or headroom—though the wider, boxier Telluride provides more shoulder room in each row. The third-row seat is best for kids, though bigger children may find the path to the third-row seat a bit narrow—adults certainly will.
Most controls are logically positioned, easy to use, and well labeled. We like that physical knobs are used for the climate system, and the volume and tuning adjustments for the audio system. The standard Android Auto and Apple CarPlay are a welcomed convenience. While an 8-inch infotainment screen is standard, for 2023 the top Limited and Platinum trims get a 12.3-inch screen standard. This screen is optional on the XLE and XSE trims.
The Highlander also comes with the Toyota Safety Sense system as standard equipment, and includes AEB with pedestrian detection, AEB highway, lane departure warning, and lane keeping assistance.
In addition, the Highlander comes with free scheduled maintenance for the first two years of ownership or up to 25,000 miles of use, whichever comes first. The Kia doesn't include free maintenance.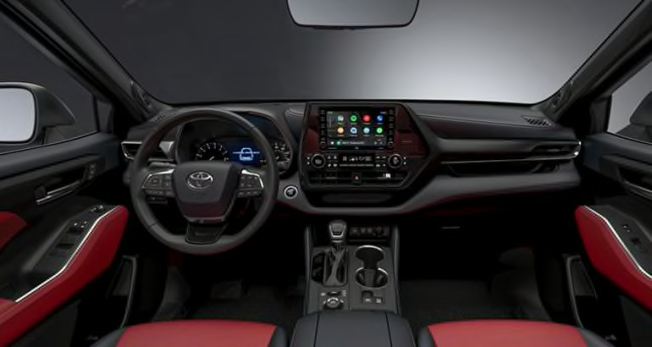 Toyota Highlander with the standard 8-inch infotainment screen
Photo: Toyota
The Case Against It
Both SUVs have similar handling and agility characteristics: fine, but not overly sporty. But the Highlander posted a lower speed than the Telluride in our avoidance maneuver. Our drivers found it challenging to exceed 50 mph when going through the course, and the Highlander felt a little clumsy as it lumbered around our track. However, the well-tuned electronic stability control kept the big SUV under control.
In our braking tests the Hybrid version had longer stopping distances than both the Telluride and regular Highlander—20 feet longer than the Telluride and 10 feet longer than the regular Highlander on the wet surfaces. The tires on the regular Highlander and Telluride are grippier than those on the Hybrid, which uses tires designed for low rolling resistance to squeeze out the best fuel economy.
One of the bigger letdowns is the Highlander's interior. It has a nice mix of materials but looks quite bland unless you opt for the Platinum version. Most surfaces are black, and there's not much in the way of contrasting trim. In addition, many of the trim panels feel hard and low-cost, and the front window sills are barely padded and the rear ones are hard plastic. In general, the Highlander's cabin appearance trails the Telluride's.
Though the view straight ahead and around the front roof pillars is good, the short side windows hurt the view to the side and the second-row headrest blocks a bit of the view over the driver's right shoulder. The thick rearmost roof pillars, small rear window, and second-row headrests all combine to limit the view straight back. 
In addition, the Highlander has numerous handles and levers to lower the second-row seatbacks or slide the seat forward for third-row access. It's far more convoluted than the Kia's one-button approach.
Even with the abundance of standard ADAS equipment, the Highlander doesn't include BSW or RCTW as standard equipment. They aren't available on the base L model at all, although they are standard on all other versions and come standard on all Highlander Hybrids.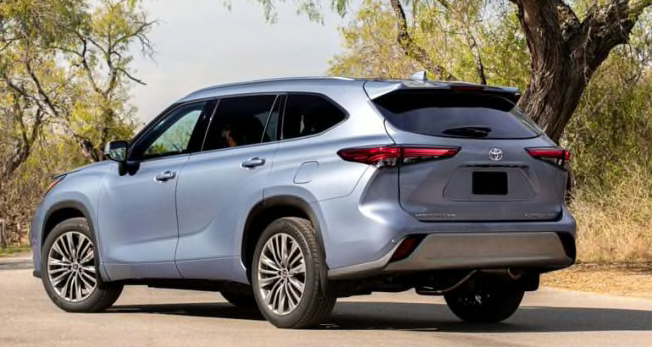 Toyota Highlander
Photo: Toyota
Which One Should You Get?
Bottom line: If you are buying purely on fuel economy, then either version of the Highlander is the choice for you. While the Toyota's turbocharged four-cylinder does well in our fuel economy testing, the Hybrid's mileage is stellar for some cars, let alone a three-row SUV.
Loyal Toyota buyers may want to stay with the brand, too, because they'll feel at home from the second they slide into the cabin. In short, the Highlander is a family-friendly—though unexciting—SUV. Note that historically the Highlander holds its value very well.
But the Telluride is better in many ways, even topping the Highlander in CR's owner satisfaction surveys. Add in the smoother transmission, better braking, nicer cabin, greater interior and cargo room, and standard BSW and RCTW, and you have a winning SUV.
Shoppers who are considering the Kia may also want to look at the Hyundai Palisade, which uses the same platform (frame, suspension, engine, transmission) as the Telluride.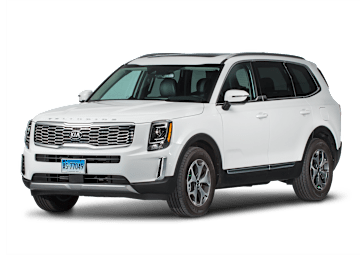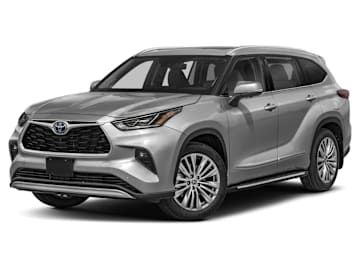 Consumer Reports is an independent, nonprofit organization that works side by side with consumers to create a fairer, safer, and healthier world. CR does not endorse products or services, and does not accept advertising. Copyright © 2023, Consumer Reports, Inc.