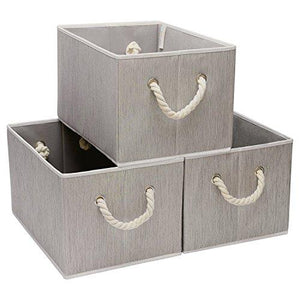 Brand: StorageWorks
Color: Gray
Features:
STURDY COTTON ROPE HANDLES: Soft braided handles knotted through strong metal grommets, allow for moving the cute fantastic storage box with 25 lbs heavy load, while keeping a perfect comfortable touch. Enjoy the fun of DIY and assemble the ropes yourself! Please refer to the picture for an easy assembling instruction.
FRESH AND ELEGANT STYLE: Minimalist design with gray color and bamboo style makes these unique fabric storage bins simple yet exquisite, perfectly fits in your room layout and household decors, leaving your space less cluttered.
DURABLE MATERIALS: These decorative canvas storage bins are made of smell-free polyester fabric with thick and stiff cardboard inside, sturdy and durable for daily use. They can stand up straight even if nothing is put inside. The size is 17.1*12.0*10.2 inches (L*W*H), perfect on your desk.
MULTIPLE USAGE: These ornament storage baskets are suitable for storing books, arts and crafts, office supplies, towels, winter clothes and so on, or serve as DVD cases on shelves, in baby bathroom, medicine chests in closets or pantries, underbed toy baskets for kids, cosmetics cases on dressers, etc.
RELIABLE AND FRIENDLY SERVICE: We provide 24-Hour Response and 30-Day Money Back Guarantee. Should you have any questions about our product, feel free to contact us and we will provide you with as much support as we can.
Details:
Everyone needs storage
- Need a lite storage solution?
- Tired of looking for all your stuff everywhere?
- Want to find an efficient way to organize everything?
Check out these remarkable storage boxes
- Open top design allows quick and easy access.
- Removable cotton handles make it easy for carrying.
- When it's not in use, fold it to occupy minimum space.
Create neatness, order and beauty of conciseness
- Store children's toys in the playroom.
- Store books and office supplies for the white-collar.
- Store electronic gadgets and accessories in the dorms.
ORDER NOW and enjoy minimalist life!
StorageWorks believes that good design done well can make a difference in the world.
We want to design products in a way to help you declutter like a ninja and transform chaos into order.
All our products have been mama tested, and gently and responsibly crafted in China.
Feel free to contact us if you are happy or unhappy with our products, or just simply wanna ask questions.
Please note: the accessories and props in the pictures, such as clothes stored in the boxes, are used for showing usage scenarios only and are NOT SOLD TOGETHER with our product.