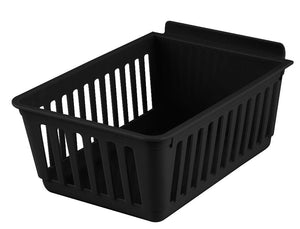 Slatbox Plastic Slatwall Storage Bins, Cratebox ''Long'', Black 8.5x5.75x3.37
Cratebox is ideal for displaying small items, such as small hardware and craft supplies, but extremely durable and capable of holding up to 26 lbs. The slotted sides offer maximum visibility of its contents. The flat base also makes all styles ideal for use on counter tops, inside cabinets or on shelves.
Molded slathook ensures fitting into existing store fixtures
Flat bottom ideal for counter tops and shelving
Made from durable, fade-resistant virgin polypropylene
Can be easily cleaned and sterilized for use with food or for medical products compatible with slatwall, plankwall, storewall, megawall, flow wall, clipwall, proslat, unislat and more
Adaptable for use on gridmesh, gridwall, pegboard and slatgrid with selected patented adapters.
Work load: 26 lbs.