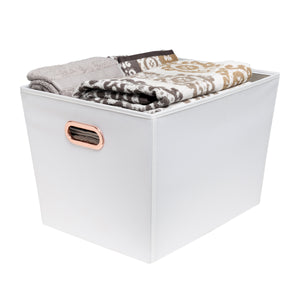 Bin perfect for any storage needs: closet, kitchen essentials, office, bath, even toys
Durable polyester construction stands up to heavy items such as books
Bold look of storage containers adds design element to any room
Storage bins coordinate with Honey-Can-Do small and medium nesting storage bins
Dimensions: 18.5"L x 17.4"W x 12.6"H
SFT-06851
You've got stuff – all kinds of stuff – everywhere. You have a date circled on your calendar when everyone will be out of the house and you are going to Get. Organized. From the office to the bathroom to the kitchen to the playroom, these storage bins with handles will quickly become your best friends. With sizes of large, medium and small – which nest together when not in use – and a construction that can hold all of your odds and ends, you can move from room to room and quickly get your life in order. Then step back and marvel at how good the bins look in your space. A little time with your new bin besties will clear up the rest of your day to spend with your old besties.