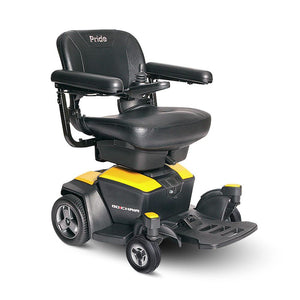 BENEFITS:
Comfortable Seating: 18"x17", 5 point swivel seat with height and width adjustable armrest
Built-In Storage: Dual swing-away, under seat storage for added convenience
Feather-Touch Disassembly: Simple frame separation with only one hand easily disassembles into five super-lightweight pieces for convenient transport and storage
Maximum Foot Space: Large footplate for comfortability

Free 1 Year Liberty In Home Service $100 Value

Free Standard Shipping
FEATURES:
Number one for portability
Choice of 6 colors
The heaviest piece is only 36 lbs.
18" x 17", 5-point swivel seat with latch release
Increased 300 lb. weight capacity
Faster speed - up to 3.7 mph
Larger, 18 amp batteries
Improved agility - longer wheel base; wider stance; compact turning radius 25.4"
Dual swing-away, under seat storage bins
Larger, height & width adjustable armrests
Larger footplate
One hand feather-touch disassembly
60" lap belt
Total weight: 128 lbs
DESCRIPTION:
An electric chair can make activities around the house much easier to do, and the Pride Go Electric Wheel Chair is designed to do just that and much more. The improved design is fitted with larger batteries with an 18-amp output. It also offers greater speed so you can travel at up to 3.5 miles per hour while at home or outdoors. It has also been upgraded to hold a bigger capacity of 300 pounds.
The five-point swivel function in the seat also features a latch release option. With constant development, the new version offers greater agility in smaller spaces with a longer wheelbase. In addition, the turning base is compact. The under seat storage option allows you to carry the necessities where you wherever you go.
The minimalist construction allows users to easily transport it from place to place. It's compact by design so you won't have trouble storing it away when taking it with you to shop. Feather Touch Disassembly lets users separate the entire frame into five lightweight components, using one hand. It also offers the best comfort features, such as a wide footrest and adjustable armrests.
The cushioned seat gives excellent back support so there's no excess strain on pressure points in the back and shoulders. The controls are easy to use and don't require significant practice. To offer greater variety to prospective users, the Pride-Go Electric Chair is available in six stylish colors such as amber orange, sapphire blue, and rose quartz.
SPECIFICATIONS:
Model: Go-Chair
Weight Capacity: 300 lbs.
Turning Radius: 25.5"
Width: 22.5"
Length: 28.5" without front rigging
33" with front rigging
Maximum Speed: up to 3.7 mph
Ground Clearance: 2"
Front Wheels: 6" solid casters
Drive Wheels: 9" solid
Rear Wheels: 3" solid anti-tips
Standard Electronics: 40 amp, PG GC3 (non-programmable)
Battery Size (2 required): 18 Ah, 12 V, deep-cycle
Standard Battery Charger: Off-board, 2 amp
Per-Charge Range: Up to 8.7 miles
Battery Weight: 14 lbs. each
Weight of Heaviest Piece: 36 lbs. (rear)
Standard Seat Weight: 30 lbs.
Standard Seat Size: Compact, Foldable (18"x17")
Medicare Code Coverage: K0899 Power Mobility Device, not coded by DME PDAC or does not meet criteria
Warranty: 5-Lifetime limited on frame;
13- month limited on electronics;
13- month limited on drive motors