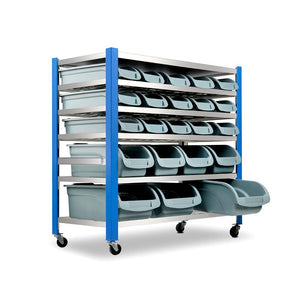 22 Storage Bin Rack Stand
Featuring 22 injection-moulded bins, the Storage Rack has a 5-tier rack that enables the bins to be laid out for easy access. The 22 detachable bins come in small, medium and large sizes to facilitate easy storage of multiple types of tools, parts and components. Everything is within reach to make light work of any task. Useful labelling slots also allow everything to be appropriately classified and named for quick locating. Not least, the boltless-design frame is made of rust-resistant steel and set upon a set of lockable castor wheels for easy mobility to any work zone. And to top it off, a convenient magnetic bar is built-in for that quick grab and hold during the work process.
With a maximum weight capacity of 22kg per tier, the 22-bin Storage Rack is a must-have for any well-planned workshop, garage or hardware store.
Features
* 5 tier rack construction with bin locating guides
* 22 durable injection-moulded bins
* Magnetic tool bar - exclusive design
* Three bin sizes
* Sturdy rust-resistant frame
* Convenient labeling slot for parts organizing
* Lockable universal castor wheels
* Boltless design
Specifications
* Bin quantity: 22
* Capacity per tier: 20kg

Package Content
1 x Shelf Frame
22 x Bins
4 x Castor Wheels
1 x Manual