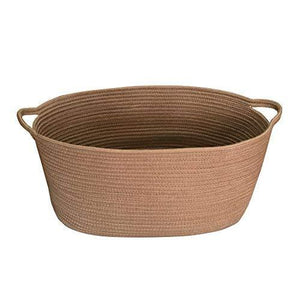 The Large Storage Basket made of cotton rope,Safe and Healthy.A reliable rope basket for nursery room.

SIZE:(LxWxH)19.68 x13.78 x8.66 .Large woven basket to decorate your home.

Easy To Move and Take Away: Woven basket with rope handles design helps you carry it from bathroom to laundry room, from playroom to bedroom. A classy home decor, no more toys and messes in any corner of your room.

The Cotton Rope Storage Basket suit for laundry hamper, bath basket, closet organization, nursery bins,toy storage,and etc.

NOTE: The rope basket is folded in a bag, but it will turn back to its elegant shape quickly if you fill it with some towels or blankets and it can be ironed to remove wrinkles.

Color : Light coffee

Size : 19.68 x13.78 x8.66
Save Your Space with Dealone Storage Bins
This is a Large Oval Cotton Rope Nursery Bin with Handles.Soft,Large,Safety and Healthy.
Have an organized, clutter-free play area for you kids. Your little ones will love to put away their toys, books, and clothing into this decorative storage basket.
Gets out of your way when you need it to. The cotton rope is designed to collapse down flat for storage.
Sturdy and Durable:This storage bin can allow you put many stuffs.
- Great basket for nurseries, with enough storage space for diapers, baby wipes, diaper rash cream, baby clothes, burp rags, teething toys, and lotion.
- Perfect organizer for play rooms, allowing for the storage of toys, books, blocks, stuffed animals, toys with multiple pieces, train sets, or board games.
- Chic design allows it to be used in the living room to hold throw blanket, pillows, and reading materials, as well as in the bathroom for towels, or as a laundry hamper.
Why Choose Our Woven BasketsStorage?
- Spacious capacity.
-Every storage bin has two thick rope handles
- Foldable, easy to transport design.
NOTE: The basket is folded in a bag, but it will turn back to its elegant shape quickly if you fill it with some towels or blankets and it can be ironed to remove wrinkles.